How open is OpenStreetMap?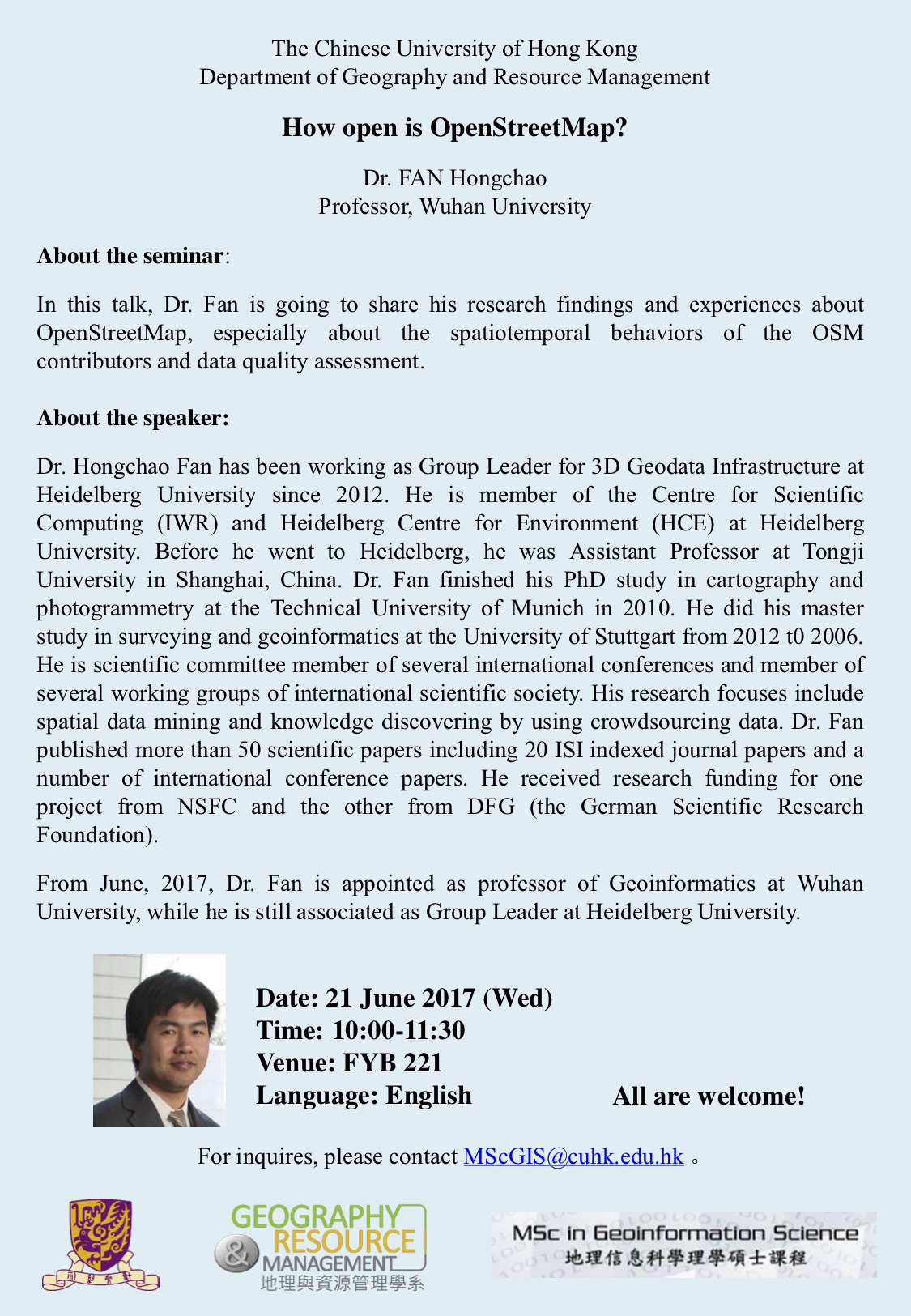 by Dr. FAN Hongchao
Professor, Wuhan University


About the seminar:
In this talk, Dr. Fan is going to share his research findings and experiences about OpenStreetMap, especially about the spatiotemporal behaviors of the OSM contributors and data quality assessment.


About the speaker:
Dr. Hongchao Fan has been workingas Group Leader for 3D Geodata Infrastructure at Heidelberg University since2012. He is member of the Centre for Scientific Computing(IWR) and Heidelberg Centre for Environment(HCE) at Heidelberg University. Before he went to Heidelberg, he was Assistant Professorat Tongji University in Shanghai, China. Dr. Fan finished his PhD study in cartography and photogrammetry at the Technical University of Munichin 2010. He did his master study in surveying and geoinformatics at the University of Stuttgart from 2012 to 2006. He is scientific committee member of several international conferences and member of several working groups of international scientific society. His research focuses include spatial data mining and knowledge discovering by using crowdsourcing data. Dr.Fan published more than 50 scientific papers including 20 ISI indexed journal papers and a number of international conference papers. He received research funding for one project from NSFC and the other from DFG (theGermanScientificResearchFoundation).

From June, 2017, Dr. Fan is appointed as professor of Geoinformatics at Wuhan University, while he is still associated as Group Leader at Heidelberg University.